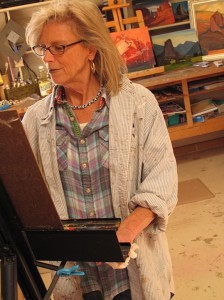 My painting is a metaphor for my life emerging from my spiritual heartwork. Each day a fresh start to create through vibrant color and shape.
A few charcoal lines on house painted canvas start my process whether I am painting from nature or from my inner thoughts. I build up layers using acrylic paint, pastels, oil sticks and charcoal, then go back in again and push / pull until the painting is revealed. Intuition leads the way and my soul eventually connects with yours.

Page never learned the rules in art school, so as a self-taught painter enjoys the freedom of experimenting with no boundaries.  Page received a Masters in Education and her natural talent as a teacher is reflected in her ongoing workshops and classes.

She has lived on the South Shore of Boston for over forty years and spends her winters in Mexico.  She was privileged to receive a Residency at the Fine Arts Work Center in Provincetown MA in 2013 granted through the Copley Society of Art.

She is a juried Gallery Artist at the Copley Society of Boston, South Shore Art Center in Cohasset MA, and the Left Bank Gallery in Wellfleet MA. Her work can be seen at galleries in New Orleans, Hingham MA and Puerto Vallarta Mexico.

She has studied with and been inspired by Ros Farbush, Cynthia Packard, Ken Auster, Charles Sovek and Jenny Nelson.  Her favorite artists are Matisse and Diebenkorn.