Contemporary Art for the Coastal Home
Solace Studio + Gallery showcases artworks of various styles and media including oil + acrylic paintings, mixed media + collage, and found object assemblage sculptures. While our focus is on coastal imagery, we also feature still life, abstract and pop art to suit all tastes. Artists are local to the Jersey Shore and New England areas. We host artist receptions and community events throughout the summer season. The studio at Solace is the personal workspace for Franny Andahazy, where she also teaches painting workshops in the off-season.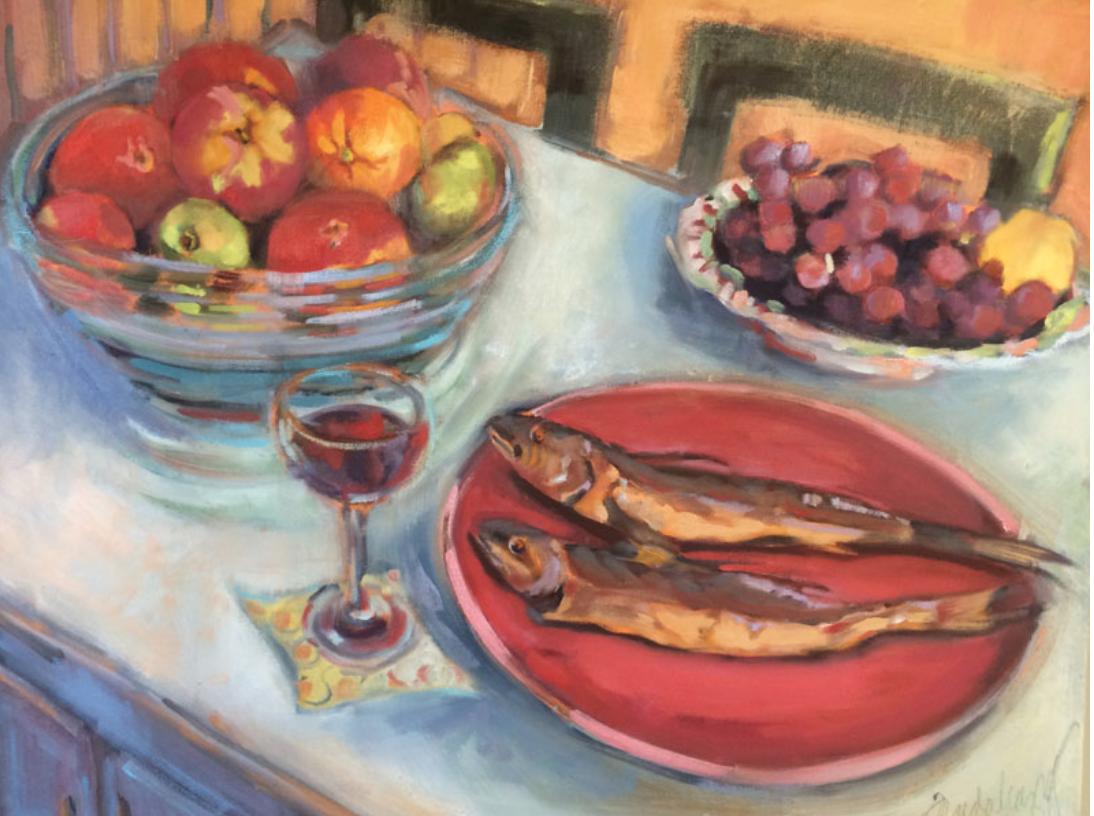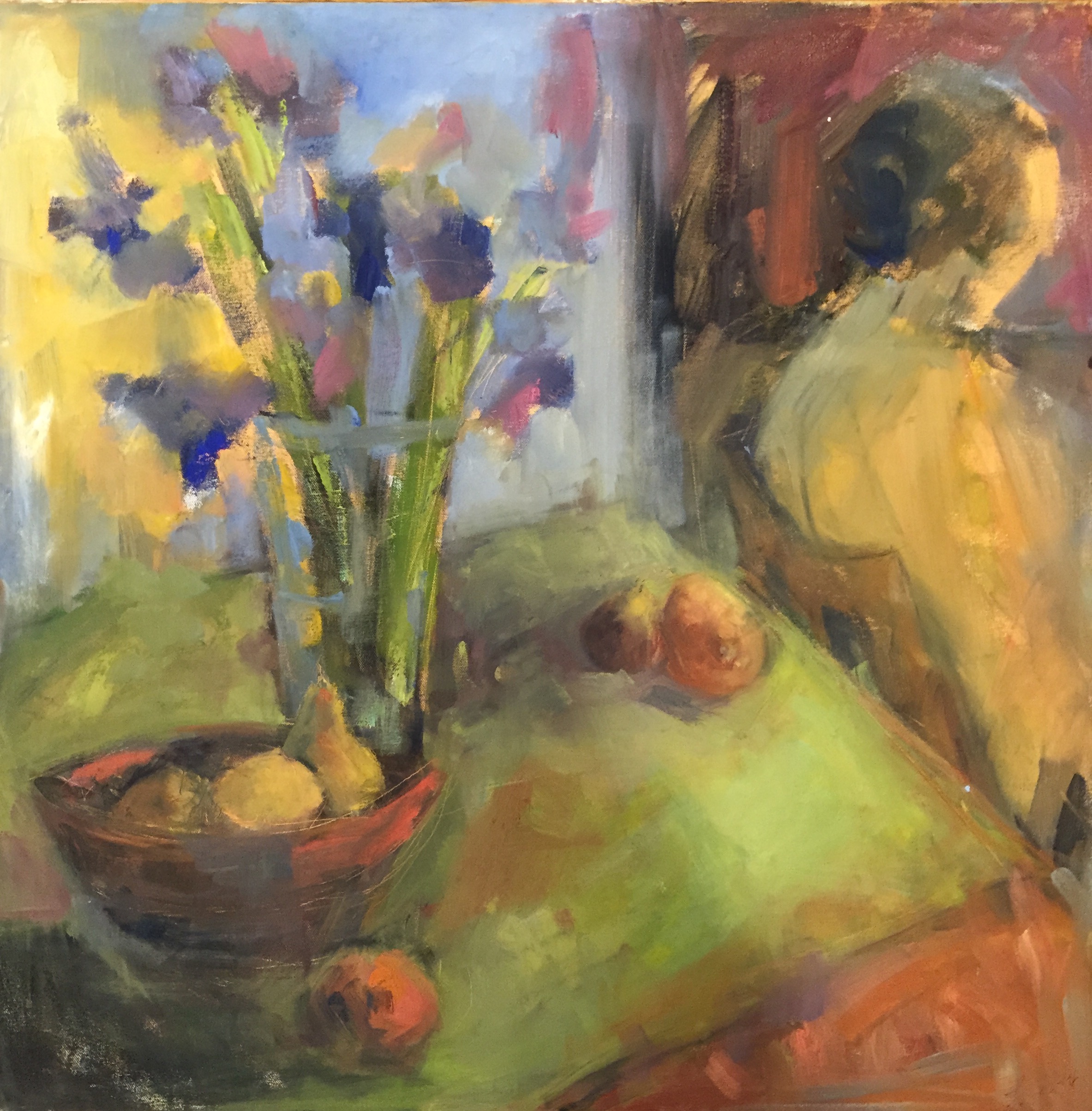 FRANNY ANDAHAZY
Gallery Owner & Curator – Concept Designer – Stylist – Art Consultant – Creative Director Visionary – Fine Art Painter – Set Designer – Art Instructor & Juror
Frances C. Andahazy is an honors graduate from Massachusetts College of Art, with a BFA in painting and art education.  A teacher of art and design for over 31 years, she founded and developed her own award-winning special events design company, PBD Events (formerly Party by Design), of which she is CEO and Creative Director. PBD has grown a respected reputation over the years as one of the top event design companies in New England and Nationally, offering cutting edge designs and noted as frontrunners in the field of decor fabrication. PBD Design Team is a group of artisans who fabricate furniture from reclaimed, recycled objects, the newest division of PBD. The company houses one of the largest event décor showrooms, a full service sign division, and a custom fabrication department. Frances has won numerous awards in the field of event design, and has been called on by many organizations for her expertise on design panels, art jurors, and art business consulting. She has been featured on National television and numerous media publications for her work in the design field, was nominated for Designer of the year from Biz Bash Magazine, and was a recipient of the Alumni Award at Massachusetts College of Art for art and design.  This year in 2016 she was one of the winners of the Boston Bravo Top CEO.  While maintaining her role at PBD, she founded Oceanside17 Studio and Gallery in which she showcased her own work as a painter and represented other artists. In 2013 she started Solace on Long Beach Island New Jersey, where she spends the summer painting and selling art.  Her art organizations and memberships are numerous, as she is an active advisor and past Director at the South Shore Art Center in Cohasset, member of the NRAS, ICA, MFA, Barnes Foundation in Philadelphia, Duxbury Art Association, and SVAA in Vermont.
Artist & Designer Awards & Recognitions
Cover of New England Corporate Events
Nominated "Best Innovative Event Designer"
Nominated "Best Small Business" Boston Chamber of Commerce
Chosen "Best Event Planner" for Improper Bostonian Magazine
Nominated for "Best Event" Special Events Magazine
ABC TV's CHRONICLE, Designer Feature
Cover of Event Solutions Magazine
Feature Article South Shore Living Magazine
"Designer Of The Year" nomination for Event Solutions Magazine
Voted #2 in Boston Business Journal
Esprit Award Nominee for "Best Event Designer / Décor
"Oceanside 17 Gallery" Best Bet Boston Globe Gallery Exhibits
South Shore Living Magazine, Spring Issue, Artist profile
Art Collector Magazine Article, July Issue, Cape Cod And the Shore Issue
Patriot Ledger of Massachusetts, Profile of An Artist and Designer, August Issue
North River Arts Society Calendar Winner for "January"
South Shore Art Center Festival "Award for Excellence"
Art Collector Magazine "Cape Cod and the Islands" artist feature July
Winner of 37th Annual Duxbury Museum Winter Juried show
NECN CEO Corner Feature Sunday Night Interview
Mass College of Art Alumni Award
First Prize Old Painter Long Beach Island Foundation
Boston Bravo Awards Top CEO
Contour 19
In the fall of 2016, Solace collaborated with Andahazy's Boston-based event business, PBD Events, to create Contour 19: A Pop-Up Gallery at the Boston Design Center.  The space featured a unique selection of works from Solace artists and others, along with furnishings designed and fabricated by artisans at PBD Events.  Several multi media events were held in the impressive venue on the waterfront, bringing together Boston's artistic and professional design communities.
Customers in the Boston area can acquire our consulting services by emailing solacestudiolbi@gmail.com, or calling 617-875-5826.